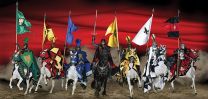 Medieval Times is an exciting, family-friendly dinner attraction inspired by an 11th century feast and tournament. Guests are served a four-course banquet and cheer for one of six Knights competing in the joust and other tests of skill. Expect almost two hours of jousting, swordsmanship, thrilling hand-to-hand combat, displays of extraordinary horsemanship and falconry as part of an exciting yet touching story set in Medieval Spain.
Medieval Times' noble guests feast on garlic bread, tomato bisque soup, roasted chicken, spare rib, herb-basted potatoes, pastry of the Castle, coffee and two rounds of select beverages. A full-service bar is also available for adult guests. Vegetarian meals are available upon request.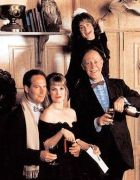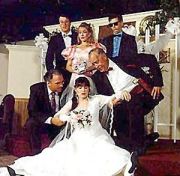 ATTENTION! Thousands of crimes have been committed at a dinner theatre in Orlando, Florida since the year 1980, and criminals continue to strike every night! We need your help! We invite you to witness the dastardly deed, and then become the detective in solving the whodunit. The mayhem is taking place nightly at Sleuths Mystery Dinner Shows, where you will die of laughter.
Step into a world of intrigue, comedy, and suspense at Sleuths. Hot and cold hors d'oeuvres are served to you as you mingle with outrageous characters. Laugh at the antics of comedic award winning actors and watch for clues as a hilarious mystery unfolds. After the crime takes place, you will savor a sumptuous dinner. As you dine in Honey Glazed Cornish Hen, Four Cheese Lasagna or Prime Rib, analyze and discuss the evidence, then formulate questions to pose to the suspects during an interrogation. Afterwards, make an accusation. Prizes are awarded to successful sleuths. (Dinner includes a Garden Salad, Bread, Crackers and Signature Cheese Spread, a choice of Mystery Dessert and Unlimited Beer, Wine and Soft Drinks.)
Currently Sleuths features many comedy-mysteries alternating throughout the week. In "G.K.'s 80th Birthday Party," family and friends are brought together for a festive occasion that soon turns sour. "Lord Mansfield's Fox Hunt Banquet" takes you to Salisbury, England, where the gentry have gathered for a festival before the annual fox hunt. Join the festivities at an Italian wedding where "Kim& Scott Tie the Knot." It is a wedding to die for! While touring England, your bus breaks down in front of the "Squires Inn," a fast-paced Sleuths' mystery. Audition for "The Show Must Go On," a musical mystery that will keep you singing and laughing all night long. "WKZY" invites you to join a board meeting of a controversial new television station that
is anything but boring!
So bring your investigative skills and prepare to laugh as you encounter deceit and scheming! It's such an uproarious good time…it's criminal!